EtherNet/IP
Rockwell Automation and the Open DeviceNet Vendor Accosiation (short: ODVA) developed the ehternet-based communication standard Ethernet Industrial Protocol, short EtherNet/IP. Like PROFINET and EtherCAT, EtherNet/IP is one of the open communication standards in the industrial environment. EtherNet/IP is mainly used on the American market together with Rockwell controllers.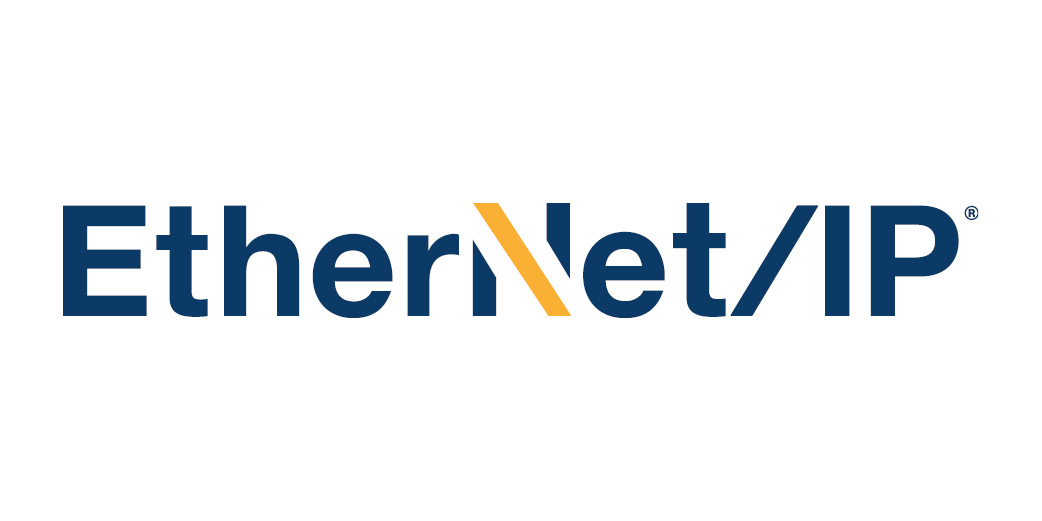 Dunkermotoren & EtherNet/IP
Since 2021, Dunkermotoren has been a member of ODVA and thus also offers the EtherNet/IP communication interface for its smart motors of the BG dPro series. The EtherNet/IP interface is available integrated as dPro EI motor or external as BGE 5510 dPro EI. As of September 2022, EtherNet/IP for Dunkermotors is also officially certified by ODVA. As with all Industrial Ethernet drives, the dPr EI drives also have the Functional Saftey Funktion STOintegrated as standard.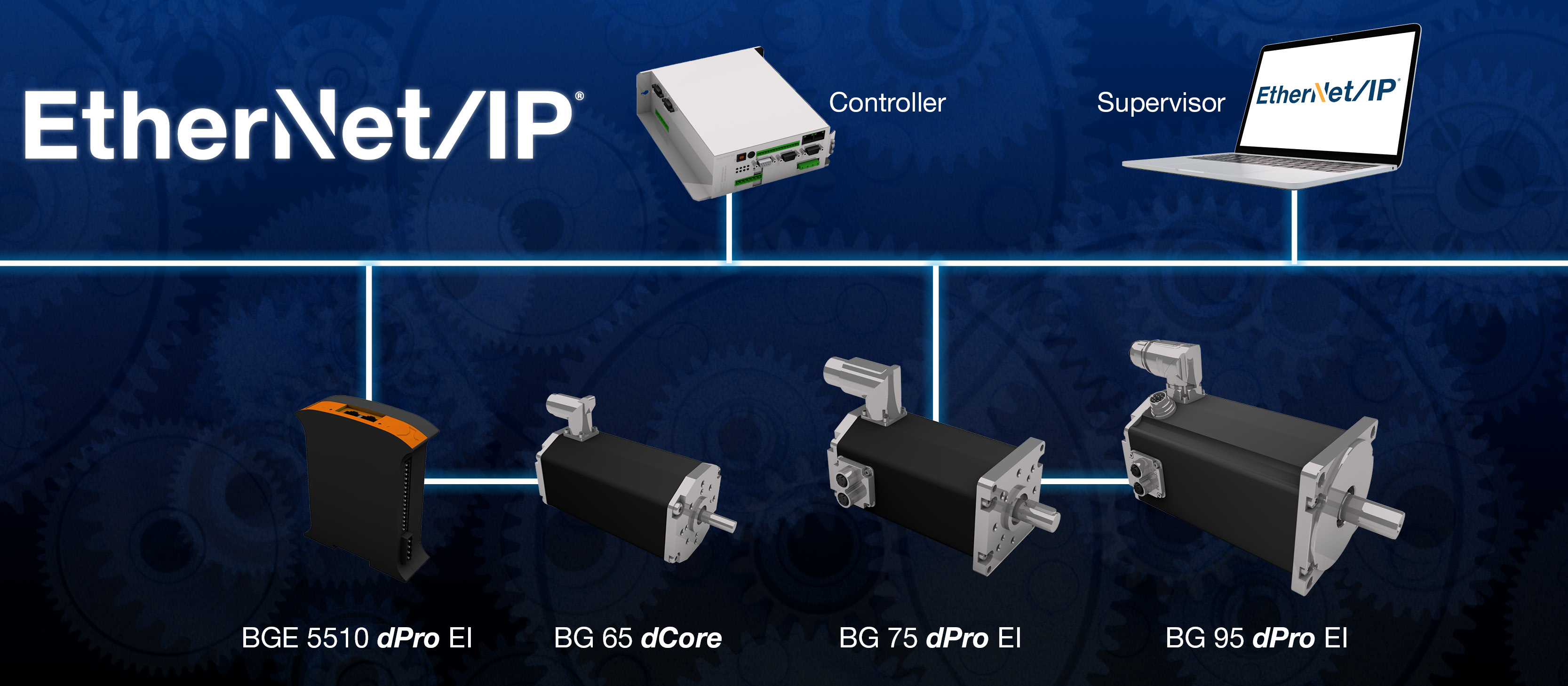 Application areas EtherNet/IP

Advantages of EtherNet/IP


» Precise synchronization of networked controllers
» Reliable communication of time-critical data
» Consistent transmission intervals with 100ns jitter
» Liquid binding/routing to other networks possible
» Different topologies possible (star, ring, tree)
» Transmission rates 10/100 Mbit/s
» Supports TCP, UDP, Internet & Ethernet protocols


08/18/2021
Dunkermotoren joins ODVA and starts product launch of Ethernet/IP for its BG series
There is now no way around real-time capable machine communication via industrial Ethernet. Dunkermotoren recognized this early on and expanded its BG series to include the PROFINET and EtherCAT interfaces. This year, Ethernet/IP will be added as a third interface in order to integrate the motors even more flexibly into different bus environments. The motors can be fully integrated into Studio5000 to ensure easy commissioning and programming of the drives. Dunkermotoren ensures the clean integration of its drives by working towards ODVA certification for the Ethernet/IP drives from the outset by ensuring that they fully comply with the official specification. For this reason, Dunkermotoren joined the ODVA in 2021. In addition to the easy integration of its drives, Dunkermotoren is also already planning further expansion stages of the Ethernet/IP interface, such as CIP-Motion or CIP-Safety, which will be introduced gradually according to customer requirements. Starting in Q2/2021, Ethernet/IP will be available for the BG 66 dPro, BG 75 dPro and BG 95 dPro series as well as for the external control electronics BGE 5510 dPro. As the external control electronics show their advantages especially when the motor length is strongly limited or in combination with BG 45, customers of Dunkermotoren will be able to use the advantages of Ethernet/IP in the future for all drive tasks in the power range from 20 to 1100 W duration and 3900 W peak. Downloads Pressrelease
04/23/2021
Dunkermotoren "Safe Torque Off" (STO) certified
Even our grandparents knew that double stitching holds better. The principle of redundancy contained therein is one of the core principles of functional safety: If, for example, any component fails, then another component must compensate for the defect. Dunkermotoren applies this principle in DC servo motors (BG series) so that, if necessary, they can also quite safely no longer generate torque. It goes without saying that Dunkermotoren has meticulously complied with all the required standards in the design of the safe circuits. The TÜV Nord has checked the compliance with the standards just as meticulously. Correctness has now been confirmed at the very first attempt and the corresponding certificate for the standard compliant STO function has been issued. Dunkermotoren is a pioneer in the integration of functions in brushless DC motors in the 20...4000 W range. With the certified STO function, Dunkermotoren has integrated a function that makes applications safer, especially in the fields of industrial automation, intralogistics, medical technology and door automation. By combining the motors with components from the modular system, the motors with certified STO can be individually adapted to a wide variety of applications. If necessary, also for the textile industry in the production of double seams. Downloads Pressrelease
11/23/2020
Functional safety with Dunkermotoren
Just a few decades ago, fast-rotating saws without contact protection or transport of goods according to the principle "mass has right of way" were common. Today, working even alongside power-packed cobots or gigantic driverless transport systems is safer than with a capricious stapler. The reason for this is functional safety, which systematically helps to avoid dangers with many standards. In the future, Dunkermotoren in the 20...3900 W range will also be available with functional safety, thus contributing to safer products. All motors and external controllers with dPro functionality can be fully integrated with STO (Safe Torque Off). In combination with Industrial Ethernet, STO becomes standard, while retaining the same size. Where energy-hungry and space-consuming mechanical relays are currently still used, fully integrated electronic circuits in Dunkermotoren ensure that motors are switched reliably and torque-free in accordance with relevant standards when required. Since the logic voltage is maintained when STO is triggered, time-consuming referencing after restarting is also eliminated. Thus, a high degree of safety is achieved with a high degree of efficiency. Downloads Pressrelease