01/13/2023
New Dunkermotoren catalog 2023-24 now also introduces own IIoT services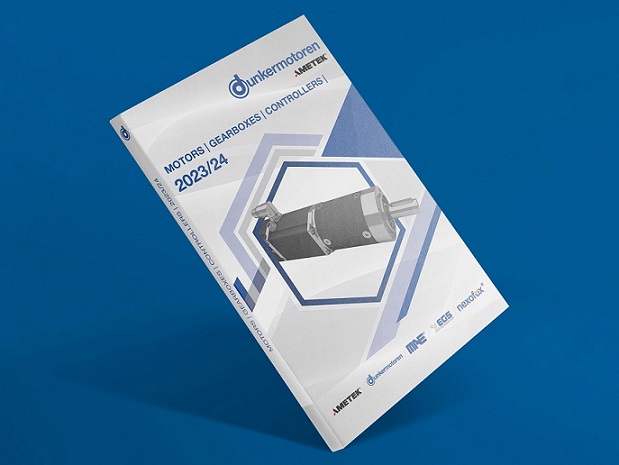 Just in time for the new year, Dunkermotoren, a brand of AMETEK, publishes its new main catalog 2023/24. Updated with the latest products and features, the catalog includes the complete product and service portfolio of the drive technology manufacturer. The modular system as well as the combination overview right at the beginning shows the various possible combinations of motor, gearbox, encoder and co. for each available motor series.
In addition, two completely new product series have been added to the catalog. On the one hand, it is now included the hub gearboxes in sizes NG 250 and NG 500 with 250 and 500 kg load capacity per axle. In the customer application, it is the gearbox itself which is used as drive wheel, making the compact planetary gearbox the perfect fit for the use in automated guided vehicles (AGVs) and AGVs.
Furthermore, Dunkermotoren is adding the SL 38 linear motor series to its new catalog. This highly dynamic three-phase linear motor is available not only in the simple motor version but, among others, also as a module or stainless-steel version (STL). Thanks to the standardized connection, a water-cooling can be added easily.
For the first time, several pages in the catalog are dedicated to the topic of IIoT and, thus, the company's own IIoT brand nexofox. With the Smart Diagnostics service packages in the scopes S to L customers can now easily get started with the Internet of Things. In addition, a comprehensive range of services, such as training courses, can be seen in the catalog, enabling every customer to book the right support for their drives. Another update in the nexofox area are the settings for external controllers. The latest status of each setting can be accessed via a QR code on the website at any time.
Curious? Take a look at:
https://www.dunkermotoren.com/en/downloads/catalogues
Downloads
Stefanie Tröndle
Marketing Content Management and Lead Processing