06/09/2022
Logistics support from the Black Forest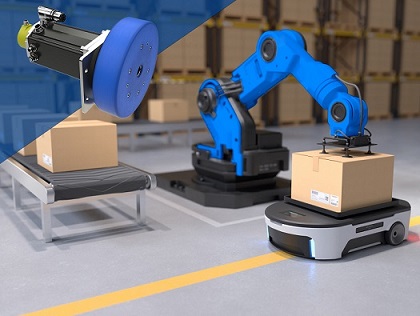 In today's consumer market, the expectations are "ordered today - delivered tomorrow". Thanks to the convenient order possibilities via online shops, this thinking is no longer sounds of the future but common practice. Another trend is developing toward customizing the product of one's own choice. Thanks to configuration and modular systems, this is also possible without any problems today.
To achieve this flexibility in production and the required speed in the supply chain, sophisticated logistics concepts are necessary, which can take on many forms.
One part of this is the intralogistics. This does not mean the transport from factory to factory, but the transport within a production facility, a warehouse or even a parcel distribution center for direct shipment to the customer.
In general, the following tasks fall within the process landscape of intralogistics:
»
The transportation of components within a flexible production line
»
The collection of products from a warehouse for direct shipment
»
The transport for storage and retrieval of components from a high-bay warehouse
»
Sorting and arranging packages for onward transport or delivery
All these functions were formerly used to be performed manually by employees. With the rise of bar codes, laser scanners, and LIDAR sensors, autonomous transport equipment, service robots, and high-speed sortation systems have gradually taken over these tasks.
The requirements for the various means of transport are quite comparable. They move autonomously and independent of location, in some cases they even move free navigating. This requires that the vehicle has a certain "intelligence" on the one hand and, on the other hand, that it is battery-powered. When sorting and ordering parcels, the most important thing is fast and precise movements to reliably guide the move of the parcels. The interaction and communication between reading units, controllers and actuators is essential here.
These requirements lead to a number of questions: Which motor solutions can be used? Which motors offer high efficiency and thus longer battery life? Which motors offer safety functions and which are compact in their design?
There is one simple answer to these questions: Motor solutions from Bonndorf in the Black Forest – motor solutions from Dunkermotoren! Decades of experience in drive technology, which can be powered by accumulators, distinguishes Dunkermotoren. The constant development towards energy-efficient drives testifies to a high technical level. The compact design and modular construction of the drive system from a single source allow a wide range of combinations with optimum use of space. The use of highly integrated motor controllers with a high degree of flexibility in the selection of fieldbus systems is possible in almost all industrial environments. Additional safety-related functions such as a brake, independent encoder systems or functional safety (STO function) complete the performance spectrum, especially for autonomous systems. The buzzword IIoT or Industry 4.0 can then be used as an additional extension. Thanks to its new IIoT brand nexofox which was launched in 2021, Dunkermotoren can now also meet the requirements of Industry 4.0 with services such as drive-specific data evaluation and predictive maintenance.
Depending on the requirements in the application, small motors with less than 50 W nominal power and a design of less than 50 mm are offered. Especially small axes such as telescopic arms or small lifting axes rely on such motors. On the other side of the scale there are motor solutions with a continuous output power of over 1 kW and a peak output power of up to 5 kW - with a supply of 24 ... 48 V battery voltage! This allows loads of up to 8 tons to be moved, for example when transporting chassis in the vehicle construction. At the same time, the system can be positioned exactly within a fraction of a millimeter thanks to the integrated electronics. This is important when precise assembly or testing operations are carried out on the load.
The technical basis for this lies in compact and highly integrated power electronics in the motor, which, thanks to its modular design, enables a wide variety of expansion stages, allowing the motor to be adapted to requirements in terms of its intelligence and capability. Simple, controlled movements can thus be implemented optimally and cost-effectively. Likewise, an integrated and complex sequence control is possible, which can trigger other bus participants or react to their movement. Parts of the motion sequence can be relocated from the higher-level control system to the motor. The Motor Control Platform (MCP) allows communication between components via all common fieldbus systems. This high level of diversity creates two advantages:
»
The modular design generates a level of common parts to achieve a positive cost effect
»
At platform level, the functions are almost the same and independent of communication
In addition to the communication, concepts of safe automation are also part of the drive concept. The attachment of a holding brake to fix the transport vehicle is available as standard in Dunkermotoren's modular system. The same applies to the installation of an independent, second encoder system, which can be used for safe speed monitoring. Complete components for a safe stop of the vehicle in the event of a fault can be fitted as an optional extension. All these points are essential requirements for a motor solution in self-guided transport systems.
Dunkermotoren's modular system enables customers to implement a wide range of intralogistics applications. Individual adaptation of the assembly for fast and cost-optimized installation is also possible. Optimal consultation and early involvement of Dunkermotoren's experts in the project can provide the decisive cost advantage on the market if assembly times are to be reduced or a motor solution must be used flexibly several times in the application.
Together, we will also find the best and most economical motor solution for your intralogistics application.
Authors:
Matthias Tidelski & Michael Basler, Key Account Manager for Industrial Automation at Dunkermotoren GmbH
Downloads
Stefanie Tröndle
Marketing Content Management and Lead Processing