09/12/2022
Easy condition monitoring with Smart Diagnostics from nexofox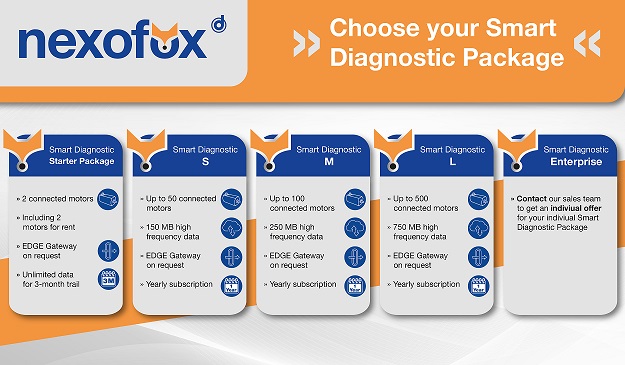 With
Motion
Code,
nexofox successfully entered the IIoT market in early 2022. Now, in the third quarter of 2022, nexofox's first completely cloud-based product will be launched. With the release of
Smart
Diagnostics,
customers of the brand Dunkermotoren will have the possibility to see the status of the connected motors completely remotely without major effort and from any location. The most important parameters will be visualized and will be available briefly. Thanks to condition monitoring based on the fault register, the transparency of motor operation is also significantly increased. For using
Smart
Diagnostics,
all that is needed is a motor from Dunkermotoren and an Internet connection. Customers can look forward to the first enhancements to the tool within the fourth quarter 2022. In addition to the features listed above, there are further advantages for customers of the brand Dunkermotoren. As defined by the Idustrial Digital Twin Association (IDTA), all software products of nexofox are developed according to the AAS approach and provided in accordance with the requirements of the Open Industry 4.0 Alliance. This provides the possibility to easily integrate nexofox's software products into own or already existing IIoT ecosystems. Additionally, motor-specific IIoT know-how is no longer a requirement for the customers to realize their IIoT application. By using
Smart
Diagnostics,
nexofox offers perfect conditions for improving the economic and environmental efficiency of your application. In addition to a starter package and various standard packages, the service can also be customized to the customer´s needs.
Downloads
Stefanie Tröndle
Marketing Content Management and Lead Processing