04/21/2023
Dunkermotoren put six charging ports into operation at its Bonndorf headquarters to promote electromobility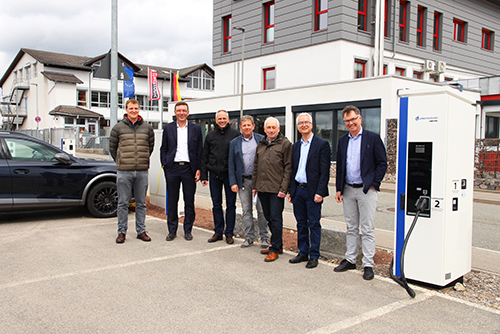 Dunkermotoren, a brand of AMETEK, has put into operation twelve charging points on six ports. Eight points are available for the public. The billing system was installed in cooperation with the neighboring company Hectronic.

Four charging ports with seven 11 kW and one 50 kW charging point are available on the
Allmendstraße 24/7
to the
public,
visitors, and employees. The 50 kW quick-charging point is of particular interest to Dunkermotoren visitors such as customers or suppliers, as they often have a long way to go and don't stay at the facility for very long. This gives them the opportunity to sufficiently recharge their electric vehicle even after a short visit.
Authorization and billing of the charging processes is conveniently carried out using debit/credit cards, which fulfills the requirements of the charging station ordinance for all stations installed after July 01, 2023. As of today, special apps, cards, or memberships have been required at many public charging points in order to start the charging process. The charging station ordinance will ensure the barrier-free and user-friendly expansion of e-mobility and make it mandatory to offer common means of payment.
The connected billing system and payment terminal were supplied and installed by the neighboring company Hectronic, which originally specialized in systems for parking and service station management expanded its portfolio to system solutions for e-mobility. The easy payment for charging is at the core of Hectronic's solution. Dunkermotoren and Hectronic have already been cooperating in other areas for many years. Thus, the cooperation in the charging infrastructure was the most obvious solution. The public charging points are located directly opposite the Hectronic facility and are ideally suited as a reference object.
Another two charging ports with four 11 kW charging points have been installed in the Dunkermotoren parking deck. These charging points are available for the company's pool vehicles. Here, the charging processes are also authorized via the Hectronic system.
This provides an incentive for Dunkermotoren employees to use electric vehicles when coming to work. A survey has shown that around 1,000 t of CO2 are currently emitted annually for these journeys using combustion engines. In this context it is worth mentioning that Dunkermotoren has been offering the JobRad deal for several years. This allows employees to lease electric bicycles at low cost. If employees use these bikes to travel to work, the batteries can be charged cost-free at charging stations on company premises.
The state of Baden-Württemberg, as part of the Charge@BW program, subsidizes the charging infrastructure with €2,500 per charging point. One of the requirements for the subsidy is that the charging points be powered by renewable electricity generated on site. Dunkermotoren can meet this requirement with the solar-power system installed in 2021 and 2022 with an output of 350 kWp. The annual yield of up to 350,000 kWh is estimated to be sufficient for 7,000 charging processes of purely electrically powered vehicles.
Downloads
Stefanie Tröndle
Marketing Content Management and Lead Processing