04/18/2023
Drive solutions for Entry systems in accordance with EN 17352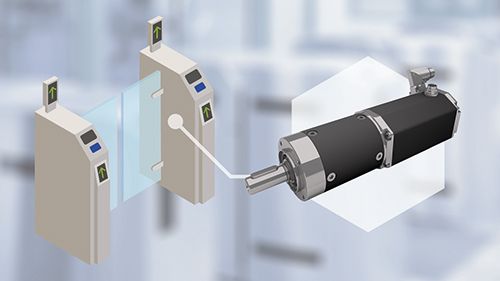 Dunkermotoren offers drive solutions to fulfil new safety requirements and implement automated Access Gates compliant with EN 17352.
Dunkermotoren, a brand of AMETEK, is the market leader in drive solutions for the door automation and is driving more sliding and swing doors than any other motor manufacturer. Thanks to its expansive modular system including motors, gearboxes, encoders, brakes, and electronics, highly custom drive combinations can be configured for any application. With all these options, Dunkermotoren brings automation inside of buildings. At airports or metro stations for example, entry systems such as access gates ensure that only authorized persons get access to the airport terminal, or that the door to a platform is only released after the metro has stopped. Equipped with brushless Dunkermotoren DC motors and integrated or external motor control units, those access gates provide additional safety for passengers. Customized and parametrizable motion profiles contribute to smooth and safe airport operation.
Different types of access gates, such as a one-way corridor or automated passport control, provide different installation spaces for the drive solution. The option to select from both, planetary as well as angular gearboxes such as worm or bevel gearboxes, allow Dunkermotoren to configure the suitable drive solution for each entrance system no matter the space constraints.
By publishing the EN17352 standards, suppliers of power operated access control devices such turnstiles, swing lanes, and retractable lanes have been confronted with additional requirements and test methods. Thus, manufacturers of such products are required to take further safety characteristics into account when designing their product.
Dunkermotoren can help contribute to the compliance of these requirements. Reversible gearboxes, for example, allow a manual opening for escape in case of emergencies, ensuring the vital safety of passengers. Additionally, the motor controllers, which are certified to EN ISO 13849-1 for Performance Level d (PL d) / Category 3, can safely switch off the drive torque so that no one is harmed on their escape route.
Our expert for Access Gates will be happy to advise you:
Tobias Johnston
Key Account Manager Building Automation at Dunkermotoren
Tobias.Johnston@ametek.com
Downloads
Stefanie Tröndle
Marketing Content Management and Lead Processing