DC, BLDC and linear servo motors from Dunkermotoren
-Our drive is your success!
Dunkermotoren - Your expert for rotative and linear drive technology from 1 up to 5,000 watts output power.



Dunkermotoren - Innovation, Quality, Flexibility and environmental awareness. Your Partner for complete motor solutions.
We are your leading partner for complete motor solutions from industrial automation, building, laboratory and medical technology to motive applications.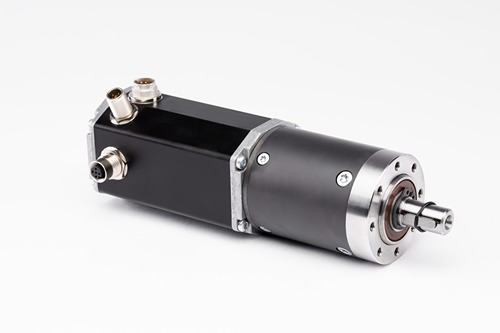 Pre-Show Report – Dunkermotoren at the MD&M West show in Anaheim, CA
Dunkermotoren, a brand of AMETEK, will be exhibiting at the MD&M West show in Anaheim (February 6th – 9th) at booth 2986 in the German Pavilion. Dunkermotoren's product portfolio includes brushless and brushed DC motors up to 5 kW, stepper motors and linear systems. Dunkermotoren incorporates a modular system to combine their motors with planetary and right-angle gearboxes, encoders, brakes, and integrated or external electronics into a single package. This creates fully configurable and customized solutions for your application. All products are designed and manufactured in Germany and are known for their high quality and maximum flexibility thanks to their modularity, which allows for customization even in small quantities. Dunkermotoren's rotary solutions are ideal for applications such as packaging applications. The motors allow for variable speed/variable torque operation with high bearing load capabilities, which provides the ideal drive for VFFS, case packers, conveyors, and belt driven applications. The linear systems are fast, precise, maintenance and wear-free, and can replace pneumatic and hydraulic solutions for extended life and environmentally friendly solutions. Dunkermotoren's linear systems can be configured in single or multi-axis configuration such as a gantry system. Typical uses include material handling and pick-and-place applications. In the medical sector, the motor technology manufacturer is known for high reliability, long service life, and solutions-based approach. Downloads Press release (PDF)
---
01/27/2023
Start for a new linear motor series from Dunkermotoren
With the SL 38 product family, Dunkermotoren, a brand of AMETEK, is presenting the first size of the new linear motor series "ServoLinear". The SL family impresses with great performance and flexibility. The strengths of the SL 38 motors lie particularly in their speed, force, and acceleration. The peak forces of the new linear motors reach up to 3700 N at an acceleration of more than 200 m/s2. Applications that previously used slow spindle motors or inaccurate belt drives can now be driven much faster and more precisely with the new SL 38, thus increasing the application´s output significantly. To meet the diverse requirements of a wide range of industrial applications, a total of five versions of the SL 38 have been developed. These are all based on the same base motor, which has been adapted to fit the special requirements of the respective application area. Starting with the component, for example, it is installed as a "ready-to-use" module or with an anti-rotation mounting plate in the TwinGuide version. For harsh environmental conditions or for operation in the food industry, the SL 38 is also available in a stainless-steel version. This option has uniform stainless steel surfaces, hexagonal screw connections and special hygienic seals, to guarantee protection classes of up to IP69K. A special feature available in all versions is the optional water-cooling system, which allows the continuous forces of the motors to be doubled. The different versions of the SL 38 family allow the ServoLinear product to be used with great flexibility. The high force capabilities are required in fields like special machine construction. The acceleration and high speeds, in turn, ensure shorter cycle times and thus achieve an increase in output. This means that production processes can be carried out much faster and more accurately. Further sizes, e.g. for use under strict installation space specifications, will be added to the ServoLinear series in the near future, covering an even wider performance range. For detailed information or support with the design of your linear drive, visit our Dunkermotoren website: https://www.dunkermotoren.com/en/products/linear-system/linear-motors or contact us via our contact form: https://www.dunkermotoren.com/en/contact-us Downloads Press release (PDF)
---
01/23/2023
New Dunkermotoren catalog 2023-24 now also introduces own IIoT services
Just in time for the new year, Dunkermotoren, a brand of AMETEK, publishes its new main catalog 2023/24. Updated with the latest products and features, the catalog includes the complete product and service portfolio of the drive technology manufacturer. The modular system as well as the combination overview right at the beginning shows the various possible combinations of motor, gearbox, encoder and co. for each available motor series. In addition, two completely new product series have been added to the catalog. On the one hand, it is now included the hub gearboxes in sizes NG 250 and NG 500 with 250 and 500 kg load capacity per axle. In the customer application, it is the gearbox itself which is used as drive wheel, making the compact planetary gearbox the perfect fit for the use in automated guided vehicles (AGVs) and AGVs. Furthermore, Dunkermotoren is adding the SL 38 linear motor series to its new catalog. This highly dynamic three-phase linear motor is available not only in the simple motor version but, among others, also as a module or stainless-steel version (STL). Thanks to the standardized connection, a water-cooling can be added easily. For the first time, several pages in the catalog are dedicated to the topic of IIoT and, thus, the company's own IIoT brand nexofox. With the Smart Diagnostics service packages in the scopes S to L customers can now easily get started with the Internet of Things. In addition, a comprehensive range of services, such as training courses, can be seen in the catalog, enabling every customer to book the right support for their drives. Another update in the nexofox area are the settings for external controllers. The latest status of each setting can be accessed via a QR code on the website at any time. Curious? Take a look at: https://www.dunkermotoren.com/en/downloads/catalogues Downloads Press release (PDF)
---
01/13/2023
MD&M West
Dunkermotoren USA will be part of the German Pavilion showcasing its drive technology solutions for the medical technology and packaging industry.
all about automation
The all about automation is known as a regional trade show. For users from the international Lake Constance region and southern Germany, Friedrichshafen is an important industry meeting point for systems, components, software and engineering for industrial automation and communication.
Smart Factory + Automation World
The Smart Factory and Automation World in Seoul is for our Korean Team the most important exhibition showing future automation solutions.
Hannover Messe
The Hannover Messe is considered the world's leading trade show for industry. Dunkermotoren will be exhibiting together with MAE, EGS Automation and the IIoT brand nexofox and present their innovations of 2023.
LogiMAT
LogiMAT is the international trade fair for intralogistics solutions and process management and takes place annually in Stuttgart. Dunkermotoren and nexofox will be there with their solutions around automated guided vehicles, smart motors and digitalization.
Agrishow
The Agrishow in Ribeirão Preto is the largest agricultural fair in Brazil and one of the largest agriculture shows worldwide. Dunkermotoren, MAE and Motec will jointly present their products for agricultural applications.